Have you been wondering how to improve your birding experience?
Or even better:
Becoming a skilled bird watcher…
A skilled bird watcher is able to identify the several groups of birds in different habitats.
When you have the ability to recognize each bird that you see, you will find each time you go birding to be nicer and more fulfilling.
What if there were 21 actionable strategies to follow to become a lot better in bird identification…
…and you could put these 21 actions straight to the test?
You'd be really excited of what's coming next…
Bird Identification Tips [Infographic]
If you want to become a skilled bird watcher then you will really enjoy this infographic where I will cover the following 21 strategies for bird identification.
FREE PDF CHECKLIST:
(Download free PDF)
Click here to download a checklist that summarizes these strategies on how to identify birds.

View a larger version of this infographic
Embed this infographic on your site:

Click Image to Enlarge
Source: 21 Actionable Bird Identification Strategies – Infographic
If you love bird watching here's the best information on what you can do to make your bird watching hobby better and even more enjoyable.
As you scan through the birds, try identifying them.
Bird identification is the most important part of the bird watching process. It helps you to classify the birds according to their peculiar features.
Next I will cover each step that you can use right now…
They are thoroughly researched, and you will not find them anywhere else. They will give you all it takes to identify any bird that you come across. They will sharpen your field skills to make you an expert in bird identification.
Let's get started…
1: Begin by thorough preparation
Before embarking on your field trip prepare well for bird viewing and identification. Sure, it's possible to have fun while viewing the birds, but it becomes an even better experience if you have knowledge about the birds.
If you're not a skilled bird watcher, you need to start learning before you visit the field for this enjoyable activity. It is easy to see many birds, but you can only recognize the difference by being very skillful. You must be interested in the identification of the birds before even initiating the exercise. Ensure you have the right equipment for the process and also the necessary field guides.
The following are the ways to ensure you are well prepared:
Most birds are seen in the early morning so you need to wake up early. I advise you to get to the field before 6.30 AM.
If you plan to do your birding in the evening, get to the field at least by 2.00 PM so that you can start preparing for the viewing.
Also…
In The Ultimate Bird Watching Guide that I wrote, I gave away a checklist that makes it very clear.
Be sure to check this out since it explains to you exactly step by step which equipment you should carry with you when going on a field trip.
What should you bring?
Carry comfortable walking shoes remember you might spend a lot of time walking in the field.
Know your terrain if you are using bikes or cars.
Your clothing must be quiet. This will avoid scaring the birds. If it is a cold season, ensure they are warm enough.
Carry some water to quench your thirst while in the field. If you plan to have a whole day in the field it is advisable to carry a snack or enough lunch for your team.
Have the necessary equipment such as a binocular before leaving your house. Sometimes if you are in a team carry a walkie talkie to facilitate communication with your colleagues.
2. Learn to have a close look at the birds
If you want to identify a bird, it is easy to do it if you watch it closely. When you see a bird, stay still. Let it realize you are not going to harm it. After it becomes accustomed to your presence you can now closely view it.
This is what you should do…
1. First spot the birds with your naked eyes.
2. After focus your binoculars into the birds.
Or, as Nikon puts it…
3. Magnify it to view all its details.
4. If it is in a group, select the bird that is close to you and is more visible. Watch one bird at a time. This will help you note its important features.
3. Have a notebook
A notebook is important when visiting the field for bird watching. You should use it to record what you see.
Here's an example of a sketch biotope made in his notebook:

This is how to do it…
As you watch the bird closely, take your time to record the details in your notebook that you can use for identification. Remember you do not have much time. Use short hand and abbreviations. You should balance between watching the bird and recording. What you see can be forgotten but what you record will always be there to refer.
Record every detail of the bird. These include the bird's size, color. You can state the general type of bird. For example a sea bird, a wood pecker, a duck etc.
Notice any peculiar filed marks. These special marking are very important in identification.
When you are back home, use this information to compare with the birds in the field guides.
4. Be a good listener
Birds are heard first when singing or making noises. Sounds such as bird singing are easy to note. You can view in only one direction but you can hear from all direction. Your ears must be wide open. They will tell you where the birds are hiding.
Tips to do this…
The Prairie Warbler bird and the Canyon Wren's has sweet whistles that are often heard as descending. These are some of the things you should keenly listen to identify the bird. Allaboutbirds explains this clearly in their article how to listen to bird song — tips and examples from the warbler guide.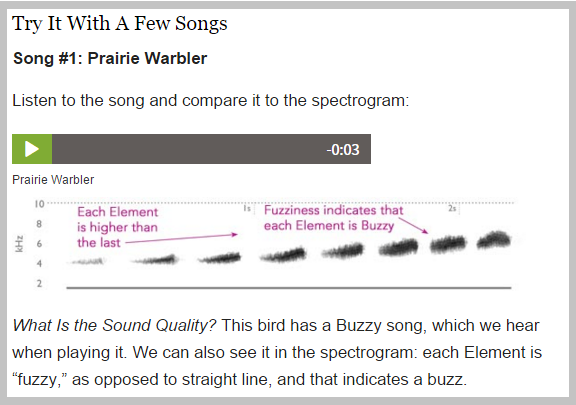 Birds sing in a certain characteristics. For example small birds such as Waxwing have high pitch sounds, the large birds such as the common raven has deeper voices.
You should know this…
Learn the birds sound in advance. This is a great tip. You should know what you are expecting to hear. These can be heard from movies and some advanced field guides. For example owls and night jars have very distinct sounds that you can identify from far if you already know the sounds. You will have a good time viewing the birds if you already know their sounds.
Immediately you get to the field, park first and listen to the sounds. If you can recognize a sound from any direction, focus your attention to that direction. If you hear something funny, check for it. It might be a rare type that you have not come across.
If you carried your field recorder, record these sounds. Then view the bird and record details. Use this to identify the sounds produced by each bird.
5. Do not scare the birds
To identify the birds, you need to have a perfect view. This can only be achieved if you do not harass the birds.
Once you go to the field, ensure you are friendly to them. With this, they will not fly away, and you will have enough time to identify them.


Here are the best ways to avoid scaring the birds:
Avoiding unnecessary noises while in the field. Talk in low tones. Alert your colleagues using the walkie talkie.
Do not run to the birds this will scare them.
Do not throw anything to the birds; even if you have carried some bird feeds throwing the food to the birds will scare them.
Do not try to capture the birds.
Be still after seeing the bird to make them tolerate your presence.
Before focusing the birds with your binoculars ensure the birds are comfortable in your presence.
6. Carry a bird book for bird identification
Several books on bird identification are available today. They are customized to different regions. Some of the books have been converted to movies that are very interesting. These books are:
1. Big Year
This is a tale involving Man, nature and a fowl obsession. It is written by Mark Obmascik's.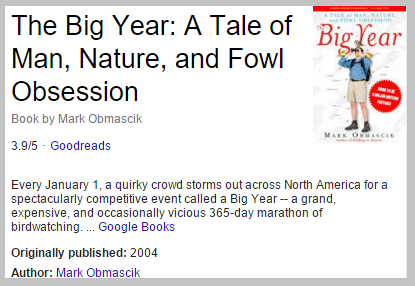 This book later adopted to make the big year Movie. It gives great characteristics of the birds of North America.
2. Wild America
It was created by the father of American birding, Roger Tory Peterson after spending 100 days traversing America with the British naturalist James Fisher. It has a lot of details on almost all of America birds.

3. Kingbird Highway
This is a great book about birding. It has over 745 species of North America birds.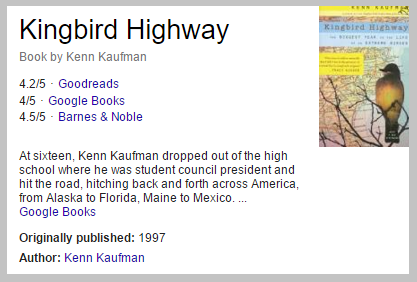 Other good books include:
· Silent spring
· Feather Quest
· Big Twitch
· Extreme Birder
· Ask birdman among others
· National Geographic Kids Bird guide of North America
· Peterson Field guide
· Birds, Nests & Eggs
7. Know your backyard birds
If you are a backyard birder, have prior names of the birds near your home.
If you are to visit the field, check for several guides for the names of the birds available.
It is important to learn before so that you are familiar with the types of the birds you expect.
For example…..


If you are from North America, you can check the Backyard Guide to the Birds of North America.
It is an atlas that will guide you in identifying the birds in this region. If you are from Britain, check this in the British Garden Library. It has a Guide bird gallery with a lot of descriptions on the birds from Britain.
Write these names and a little description.
This will help you in identifying the birds.
8. Research
If you need to identify the birds in any region, carry out some research on the most appropriate time for birding in the region, and the common types of birds, you are likely to see. You can do this by talking to a local birder. Doing thorough research will give you a good idea of the types of birds you expect.
If you are wondering where to get information from, you can check out on different social media platforms where you can follow top birders. You can follow my Facebook page and also in twitter for updates on birding. You can like bird watching magazine page on Facebook, they have updates on several birding activities and also bird identification. Another page bird watching has over 100,000 likes and gives great information on all about birds.
Other than the social media platforms there over 1000 sites on birding. There are also a lot of books on bird identification. You should therefore not a make an excuse on researching about the birds.
9. Field guides
It will be hard for you to identify birds without these essential tools. They include bird apps, online guides, and magazines among others. They provide bird photos with a description that is excellent in bird identification.
Do this…..
· Install a bird app on your smartphone before visiting the field
Due to the development of bird identification apps it is now easy to identify birds.
One of the apps that have been of great help is the Merlin Bird ID App.
This is an app that Cornell Lab Merlin developed. It can be downloaded from their website. An Android version is also available through the Google play store. You can use the app to identify the birds through a step by step watching of the birds in the app.
The app will give you millions of bird from the eBird sighting.
Another resourceful app for bird identification is ibird. It can be installed on smartphones, tablets, desktops and even e-readers. It is a great field guide. It will help you identify birds through technology. It will also give topographical maps on where you can find the birds. Have this app with you during your fieldwork.
Also be sure to:
· Be studying bird magazines, they will be essential in the identification of the birds.
· I also recommend that anytime you are visiting the field, look for local birders who can give you tips on the birds you are likely to find.
· Have a book that can guide you in bird identification
One of the most recommended bird identifier is the Sibley guide. This is one of the best guides that you can utilize in your birding field trips. It has over 810 species of North America birds. It will guide in the identification process. It is easy to initiate your identification by identifying the general characteristics given in the guide.
Later on, as you learn you will be able to note the special characteristics of each bird on by yourself.
This is a must….
10. Have a mentor
A mentor is someone who is more experienced in bird watching than you are. One way to ensure you identify the birds is by having a mentor who knows the birds in a certain location. Go to the field with him. He will help you in bird identification.
Where will you get a mentor?
· In your home area, a friend who loves birding can be your mentor. He will share his experience
· You can follow me on twitter or facebook, or check out my blog for birding tips. I will guide you in birding and also in bird identification.
Other top birders include:
· Tom Gullick-A British bird watcher
· Logan Kahle- From California
· Curtis Marantz- Southern California. Among others
11. Know the different habitats
It is common for some bird species to favor a particular habitat. This is where they live, and they are adapted to reside. It will help you identify birds by probability.
Bird identification gives you a chance to recognize the features of each bird in its habitat. This is because each group of bird has a characteristic behavior, peculiar color and also notable habits.
You need to check peculiar characteristic in each bird and record it as you enjoy the birding exercise.
Some of the notable bird characteristics include size, flight pattern, posture as well as the different habitats.
For example ring ouzels are common in rocky hills, woodpeckers must be in woodland areas, etc. This is the best way of classifying bird during identification.
Let's get this…
· If you spot a sparrow, you can think of the habitat to identify it. Ask yourself;
· Is it hiding in reeds? This must be a Swamp Sparrow
· Is it hopping in bases of pines? This must be a Chipping Sparrow
· Is it in a fencerow? This is a field sparrow
12. Real birds versus book birds
Real birds are slightly different from book images. Try not to compare the birds with images. Birds also shed their feathers making them appear different in changing seasons of the year.
You should do this….
· Initiate by recording every detail of the bird.
· Take a photo of the bird to use in comparing with that of the bird images in the books.
· Try to compare with every guide that you can access.
· Read the book descriptions and where the birds the identified birds are common
As you continue with your field study, you will note a lot of birds. You can take their photos and save them in your sd card.
Use of pictorial guides can note the individual differences of these birds. Several pictorial guides are available in many online platforms.
Some of the best photos are taken during bird watching festivals commonly known as BWD. Cornell Lab of Ornithology has several of these photos. It has a comprehensive pictorial guide to most North American Birds.
Audubon is another resourceful guide. It gives a captivating pictorial guide of many birds. It is a bird guide that you can carry with you to the field as you enjoy your bird watching.
Remember to learn about the bird habitats to ease the identification process. This will help you know the picture to compare with while in the field.
Do not compare the patterns of the photo with those in the photo guide. Use bird groups and habitat information to avoid confusion.
This way you will be able to identify the bird.
13. Bird albinos
You should know this…
Did you know there are albino birds? These birds will give you a headache in bird identification. Most of the albino birds have strange color distribution. They do not fit in any category of most guides. You will find them with unexpected white markings that make them different from familiar birds. Try to identify them with sizes but not colors.
Know the feature of albino birds….
· There are likely to have red or pink eyes
· Some have pale feathers. Note if they have normal eyes they are not albinos
· Some might still have colorful feathers, but they are albinos.
Here is a tip…
· Bird eyes will never be deceptive. They will help you differentiate an albino with a normal bird.
14. Bird feathers
The color of bird feathers varies from time to time. This is because sometimes the normal coloration breaks down while sometimes it's too much. Note the pattern of the bird's feathers in your backyard. With this, you can note this difference and be able to identify the birds correctly.
Feathers may vary due to:
· Inability to produce melanin completely or during some seasons
· Inability to deposit produced melanin in the feathers
· Failure to oxidize the melanin
· Loss of melanin during some seasons
15. Bird Identification by Color
In the field during birding, you will spot different colors of the birds. These glimpses of the birds can help you in bird identification.
Each time you spot a bird, note its main colors. You can also identify the color patterns in its body surface.
If you have a pictorial guide to assist in identification, focus on the color patterns that you can relate to the pictures in the guide.
Note that at a distance, the bird color may fade. You may, therefore, view the patterns as black and white. Some birds are unique while others have very fine differences. It is, therefore, a good idea to carry good binoculars for proper viewing.
Look here…
Look at this simple bird color key for common birds in America;
American white pelicans are normally white with some trailing black edges in their wings. This is different from Snow Geese. They have a similar shape and color with the black margin confined to the tips of their wings. This is a good example of birds with very fine differences.
Most birds have a dark body but pale undersurface. Bobolinks males have a different feature from the others. Their underparts are dark while its body is light. This is, therefore, one bird that can be identified easily by just watching its color.
Some colors characteristics are only identified when the bird is flying. An example is Hummingbirds that can be observed with flash white in the tail as they fly. You can only identify this color characteristic if you watch them fly.
Other colors can only be identified when you are close to the bird. These include splendid colors that are only observed when the birds flash by. They are very enjoyable to watch if you have a good view. An example includes a male oriole. If you watch it at a close distance, you will easily recognize it by a blazing orange color.
Check the bird color and its patterns. If the bird has special patches, use them in identification. Check the color for each part of the body including the abdomen, head, chest and all the other parts. Use the field guides to identify the birds with these special colors.
Do this…
– Ensure the field lighting is not affecting the bird colors.
– Ensure you are at a good distance where you can see the bird clearly
– Start by focusing on overall color rather than the patches. Record this color
– Then you can check the variations of the colors
16. Markings
Different birds have special markings that distinguish the different species. If you find closely related birds, this is what you should look for to help you in bird identification.
· After noting the color markings, draw the bird in your notebook
· Try to spot each and every marking.
· Compare these spotting with what you have in your field guide
17. Compare Bird Size
We know that birds are of different sizes. When you see a bird, try comparing it to a familiar bird with similar sizes. The rough estimate of the bird size should help you in bird identification.
This is what you should do;
– You should be familiar with Silhouettes. They will give tips on bird sizes, postures, and proportions
– Have in mind the type of birds you know that are of the same size
– View other birds in the same field of view to compare the bird sizes
18. Bird behavior
You should note the behavior of the bird in the field. These behaviors will give you clues on the species that you are viewing.
In behavior I mean…..
· The posture of the birds
· How the bird moves
· The flight patterns
· The feeding style of each bird
· Are they loners of flockers
19. Bird beak
The size and shape of the beak are something else to notice. It will give you information on what the bird is likely to feed. This will guide you in knowing the bird family.
For example;
· Cone shaped beaks indicated the bird is a seed cracker. These include finches and gospeaks
· Pointed beaks that are thin and slender means the bird is an insect eater such as a warbler
20. Bird Identification Quiz
This is another great way of bird identification. It consists of simple questions that guide in identifying the unknown birds. The quiz will ask of the parameters and features that you saw in the bird. With this information, it will help you to identify the bird correctly. The quiz can be found in most guides. One guide with several tests is the Merlin. You can access the tests on Merlin after downloading it from iTunes. Merlin will ask you a few questions from which they will be able to identify the bird and give a list of several birds that match your answers.
21. Practice, practice and practice again
The saying practice makes perfect applies even to birding. I emphasize the importance of this. The more you try identifying the birds, the better your chances will be in identifying them.
· Learn to be in a good position and close range anytime you are viewing the birds.
· Learn to follow guides
· Practice to remain calm and attract the birds for proper viewing and identification
In conclusion…
Conclusive bird identification requires you to be experienced. Bird identification is a wonderful process. It keeps every bird watcher with an urge to go to the field, to discover more and more birds. Therefore it is very important to learn bird identification techniques. They are easy and can guide you any time you go for birding. Use this information to gain the tips on how to identify the birds next time you visit the field.
When you are in the field compare the different species you see. A field guide is nice, but a very accurate identification requires everyday practice. If you have doubts about identification any bird, do not worry. No one knows it all. Join a team of experienced birders and let them share their knowledge. This is the best way of sharpening your bird identification skills.
Let's continue birding!!! It is a great hobby that we all love!!!