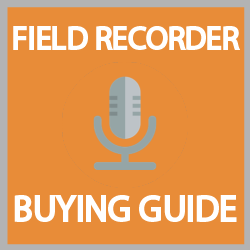 Let me guide you to the best field recorder that will make your birding experience enjoyable.
There is one thing that every bird watcher should have, this is a field recorder. It is the instrument that will go beyond the reach of your ears. It will capture distant bird sounds helping you identify hidden birds and also the distant sounds. This will make the birding experience even better.
Bonus:
Click Here
to download a free PDF Step-by-Step Checklist when buying a field recorder (the checklist also includes 4 bonus strategies).
View a larger version of this infographic
Embed this infographic on your site:

Click Image to Enlarge
Source: 10 Insane Tips For Buying a Field Recorder – Infographic

You should know this…
Being a skillful birder requires you to have adequate knowledge of the birds. It is interesting to watch a bird in the field but it becomes better if you can identify the bird and recognize it sounds.
A bird watching binocular or a spotting scope will be useful for your eyes in viewing the birds. Another great birding instrument is a wildlife camera that helps you take photos of the birds and record memorable videos of the field experience.
Best Field Recorder for Bird Watching 2016
A good field recorder should help you pick the birds sounds loud and clear. There are many sound recording devices in the market currently.
An example is a simple digital camera that can even record a video. But some of these devices pick much more noise than the intended sound. You therefore need an instrument sensitive to the specific sounds produced within its reach.
Some of these devices are expensive but have high quality optics. They give you a complete sound recording satisfaction.
From the experience of these devices I have managed to recognize the best field recorders for your field activity.
This is my Best Choice…
I have identified the Sony PCM-M10 as one of the best field recorders available today.
My Best Recommendation
Sony PCM-M10

Overall Rank: 1
Best Mid-Range
★★★★★
SEE IT NOW
What makes Sony PCM-M10 a good field recorder?
Overview Sony PCM-M10
Size of a wallet
The Sony PCM-M10 is a special digital recorder that has a matching Micover windscreen used for the built in mics. It is the size of a wallet and therefore it fits in a normal pocket. This makes it convenient to carry in the field.
Great recording quality
It records quality audio. It records .wav and .mp3 files and can also play many other kind of files. It works perfectly in most circumstances. You can use it to make great downloadable files. The following are its key features.
Features
You cannot ignore these features….
Long lasting Batteries and wired remote control
Light-up Pause, Play and REC buttons that are cancellable
Track marking
4GB hard-wired internal memory
Unlimited Eternal recording
Auto and manual record level control
Built-in 16mm speaker on bottom
Works as USB card reader
Variable pitch playback
Allows easy coping to your computer
Selectable limiter
Here are my other Field Recorder Recommendations…
Field Recorder Amazon
Amazon is an online store that has variety of the field recorders. It is the best place to do your comparison before purchase. In this store you will be given different sound recorders that can be effective. Every feature of the device will be indicated as well as its price. Customer feedbacks and several reviews are also available. Visiting the store is the best way of choosing your field recorder.
Check here the best and most popular field recorders that you can buy on Amazon.


Field Recorder Reviews
To a beginner there are a variety of choice of sounding recording instruments.
Here is the tip…
It is wise to check a device that is affordable but offers high quality recordings.
I can bet that anytime a bird watcher is in the field, he is interested with the bird sounds. Fine bird sounds can only be a result of a good sound recorder. When in the field it is recommended to keep the microphone far from you but close to the birds. Do not point the mic to the bird. You might scare it away.
Here is basically what you need as you go for the field work.
A microphone that will turn the sound into electrical signal
A recorder that is able to capture the electrical signal
A Storage device such as an SD card that will store captured electrical sound
Sometimes it's important to have editing software that can help you filter the noise
This is important…
Very few birds will make loud sounds that can be recorded from far. It is important to enhance your skills so as to be able to get close to the birds as possible. Also ensure you have an excellent recorder that will produce excellent sounds.
Field Recorder Comparison
Before purchasing a field recorder it is important to know the specifications that will be perfect for your field work. For example let's consider two types of microphones that are available. These are the directional mic and the other type that works in a parabolic reflector. The two microphones will have different levels of efficiency. The directional microphone can be several feet long. The longer it is the better its ability to capture the bird sounds. The parabolic microphone has a dish that amplifies sounds from the targets. It will eliminate the peripheral sounds. It is better in listening to the bird sounds than the directional mike. Comparing sound recorders is the perfect way of ensuring you choose the best field recorder.
Field Recorder for Film
When in the field it is advisable to make permanent recordings that can be used for film making. This is possible if you have a field recorder that has excellent sound capturing effects. You cannot make a film with a lot of background noise. You therefore need to record the sounds, transfer them to your computer and then edit them. This will help you to produce a quality film that will attract many. It will also give you long lasting memories of the field work.
Portable Field Recorder
There are many types of field recorders. These include cassette, minidisks, digital tape recorders, some ipods and solid state recorders. Before investing in any of these devices, it is important to consider its reliability in the field. You should also mind the comfort of using the device. Although most of these devices are portable choose the instrument that is easy to carry along. With several advance in technology, several portal field recorders are available.
Field Recorder App
Look…
There are various field recorder apps that are available in the market today. One of this is Hindenburg field recorder found on the iTunes App store. Android field recorders apps are also available. These apps make it easy to preset for a standard audio recording. They have become very popular to the nature lovers. They have also received massive positive customer reviews.
Tascam Field Recorder
Finally….
This is one of the popular portable digital recorders. It is designed for film making. These recorders have adorable features that can be utilized by all birders. Tascam recorders are also reliable for on-set recording that has mixing and communication. They are affordable and will give you great sound quality. Having them in the field will make the birding exercise better and enjoyable.