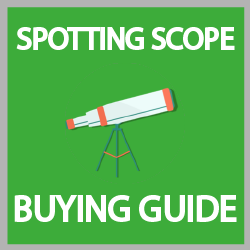 When you want to buy the best spotting scope for bird watching, there are specific features that you have to put in consideration.
A spotting scope is a set of birding equipment that is designed to bring the bird at a great distant closer. They have higher magnification than the birding binoculars.
This buying guide will help you identify the best spotting scopes that will be suitable for all bird watching needs.

Bonus:
Click Here
to get access to a free PDF checklist that shows you how to pick the best spotting scope
View a larger version of this infographic
Embed this infographic on your site:

Click Image to Enlarge
Source: 11 Crazy Tips of Choosing A Spotting Scope – Infographic
You have to know this…
A spotting scope is a wonderful investment to all those who love bird watching, hunting and target shooting. Spotter scopes, unlike other birding equipment (e.g. birding binoculars, wildlife cameras and field recorders) must be used with a tripod stand. They are therefore less portable than the birding binoculars.
Spotting Scope Reviews
There are many brands and models of the scopes. They range from inexpensive types with low image quality to the very expensive with complicated viewing techniques and high image quality.
Experience with scope use from the old to the new brands is the surest way of choosing the best bird watching scopes. Testing the scope first before buying is a good way of confirming its effectiveness.
Whatever the price range, you can identify the best scopes in terms of quality, durability and effectiveness. From the several spotter scopes I have seen and used; I believe I have the best guide for identifying a good spotting scope.
You cannot miss this…
Best Spotting Scope 2016
In most reviews of the birding equipment, be it a birding binocular, a field recorder, a wildlife camera or even a spotting scope, it is difficult to name the best product. This is because several customers have different tastes and preferences.
My criteria for choosing the best birding equipment is entirely based on the general use of the equipment. I choose the best equipment based on the features that I consider paramount to its effectiveness in the field.
Several spotting scopes are available but from my different spotting scopes reviews I recommend Vortex Optics Razor HD.
Here is why…
My Best Recommendation
Vortex Razor HD Spotting Scope

Overall Rank: 1
Best Mid-Range
★★★★★
SEE IT NOW
Overview Vortex Razor HD Spotting Scope
7 Reasons why Vortex Optics Razor HD is the Best Spotting Scope:
Voltex designed this scope model that offers high-quality optics. The quality image optics of this model is suitable for bird watching. They can easily help you in bird identification
The model is completely fog and water proof. It is, therefore, suitable for most field work activities.
It has a high focusing ability that helps it produce a high-quality razor sharp image with excellent brightness in all edges.
Its focus wheel has a nice gripping making it simple to use during focusing in the field.
They have a great eye relief making it comfortable to those who use eyeglasses.
They have moderate weight and an affordable price compared to other bird watching scopes.
They come with a warranty where the manufacturer promises to repair the scope or replace it in the case of damage.
Spotting Scopes Recommendations for Birding
The following are my birding spotting scopes recommendations. They are followed by the most popular Spotting Scopes Brands. Check out the best spotting scopes that you can buy on Amazon.


5 Other spotting scope brands…
Nikon is one of the companies with a broad selection of spotting scopes. The scopes from Nikon are of excellent quality. They make their scopes using waterproof materials making them effective in most field situations. Most spotting scope products from Nikon have won several awards in optical performance. Some of the notable products include:
· Nikon EDG field scopes
They are the latest from Nikon. They have both the angled design and the straight through design. They all have roof prisms and correction coatings. If you love Nikon products, this is the spotter scope to go for. Other Nikon products include Nikon ED Field scopes and Nikon III field scopes.
These are powerful spotting scopes compared to the birding binoculars. They are perfect for all birders and nature lovers. They have great magnification that enables you to view each and every detail of the bird that you desire. They are paired with a Leupold Tripod for a perfect viewing. Use of the two together ensures that you have great stability, that ensures a quick focus and target acquisition. Leupold Company developed it for those who love bird watching. The materials used for its construction make it suitable for most fields in different geographical locations.
Have you seen this……..
This is a new Spotting design from Swarovski. The company integrated the eyepiece and the prism into a single unit. This has resulted in the development of a spotting scope with stunning and super optics. This spotting scope has also been reported to have high resolution, contrast and image smoothening. The new design has a new way of zooming where you just twist a ring on the eyepiece. This makes it possible to magnify and focus the bird as quickly as you may like. Most users have reported this spotting scope as convenient and flexible. It has a great eye relief and resolving power. I, therefore, consider it among the best spotting scopes in the market.
Bushnell spotting scopes are other great bird watching equipment. The Bushnell company has been focusing on producing the best optics and imaging products. The spotting scopes from this company have huge customer reviews and are highly rated. Among the most popular and most rated products from Bushnell include Bushnell image view digital, Bushnell space master, Bushnell Legend Ultra HD spotting scope and Bushnell Elite spotting scope.
Vortex has been releasing optic equipment with excellent quality. One of this is the 2009 release, the Razor HD. It has received a large number of positive customer reviews which has made it very popular.
The optical performance of the products from this company has been termed as excellent. The physical characteristics of the products are also good. This is because of the waterproof material used and the coatings that improve the products quality.
This observation places the company on the frontline in the production of the best spotter scopes.
Finally….
Spotting Scope Birding
Spotting scopes have several uses. They are valuable where magnification needed is greater than that of the binoculars. You can connect your spotting scope to a wildlife camera to take images during the bird watching exercise. This will beautify the experience and make it memorable.
Every time you plan on a field visit that requires a target shooting, carry a spotting scope. It will be better than most of the other birding equipment such as the field recorder.
A spotting scope will make it easier to view your favorite birds, wherever they are without having to get close to them.
I, therefore, advise, to use my guide so that you can get the best spotting scope for birding. With this, you shall have a wonderful birding experience.