How Backyard Birds Improve Birding Experience
Bird watching is an activity that can be done from the comfort of your home. Backyard bird watching means that you can have some good time viewing the birds that are close to your home. There are so many activities that can be done in your backyard to make the experience enjoyable.

This is what you should know…
You can learn about the birds, you can feed them, house them and even study them. Before even thinking of a field trip to far places initiate this great hobby in your backyard. Backyard birds can improve your birding experience from your home. Let me teach you how you can enjoy bird watching in your backyard.
How to initiate backyard birding

Best birding experience begins in the backyard. This is where even the inexperienced birders can have the training to perfect their birding skills. Skills needed include identifying the backyard birds. It will help you know the common backyard birds. To initiate birding, you have to prepare for the activity. This is by arming yourself with proper instruments for the process. You need to attract the flock near you. The backyard wild birds should feel comfortable in your presence.
You can do this by creating a backyard bird store in your backyard. You can also feed the bird to create a long lasting friendship. It is important to store information about the birds to make sure you capture as much information as you can. This will make the birding process interesting.
Equipment you need
Once you initiate birding, you will realize that they are important equipment required for the birding process. The equipment will make the birds comfortable and thus facilitate easy birding. The following are among the most important birding tools for backyard birding.
1. Bird feeders
Feeding the birds will attract large numbers of birds to your home. It is a nice way of attracting the birds. Feeding the bird is not an expensive activity. Most of the bird feeds are relatively cheap. Bird feeders are also cheap and convenient. They can hold a lot of seeds loved by most birds. Before purchasing a bird feeder, you need to identify the types of birds in your backyard. For beginners in birding three types of bird feeders are advised.
Platform feeders
They a have a relatively simple design fitted to easily display bird foods. They have open trays that you can use to fill the best feeds for your backyard birds. Their design makes it easy to use and clean. They are durable and can accommodate several birds.
Hopper feeders
It's designed to have a central reservoir that dispenses feeds to the birds. The bird feeds are sheltered from wind and moisture. These feeders do not require regular refilling.
Tube feeders
These are the perfect feeders for small birds. It has feeding ports where the birds can feed directly to the feed reservoir.
Do you know this…
2. Bird baths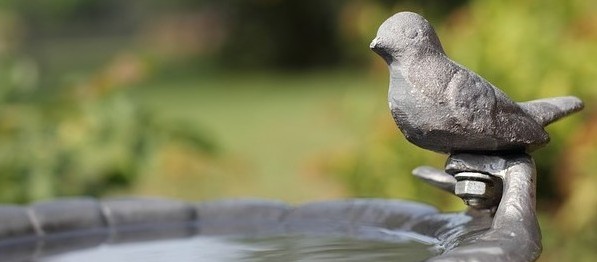 Bird baths are equipment where you add some water for the bird to drink or take a bath. There are many types of bird baths with different sizes and designs. As you construct your bird water bath consider making it attractive. You need this to make the birds comfortable in your backyard.
The common designs include;
Ground bath
These are basins that are created from shallow dishes. Know the types of birds in your backyard before preparing this. It should be able to provide water for the birds.
Pedestal baths
It's designed as an elevated basin but with its stands on the ground. The models are easy to assemble at your home. They are effective in bird attraction.
Hanging birdbaths
You can make this by hanging a basin in a tree using a chain. They have smaller designs because it's hard to suspend large basins.
Fountain
This is an attractive bird bath. It has moving water in a spray making it an excellent way of attracting birds to your backyard.
3. Birdhouses
Here is the best tip…..
Birdhouses are easy to build. You can do it yourself. Before building a bird house learn the birds you are targeting.
Different birds love different styles of bird houses. If you make a poor design, you will affect the birds. Consider the following while making the house.
Hole size
It should be large enough to allow effective ventilation but also prevent the birds from flying away.
Interior design
Interior dimension should be large enough to accommodate as many birds as the backyard can offer. The birds should be comfortable in the house.
House location
The house should be located at a place comfortable for the birds. They should be secure from dangerous animals. The lighting and ventilation should be perfect to optimize the bird comfort. The bird house should be near the bird water bath. The two will enhance bird attraction to your yard.
4. Bird food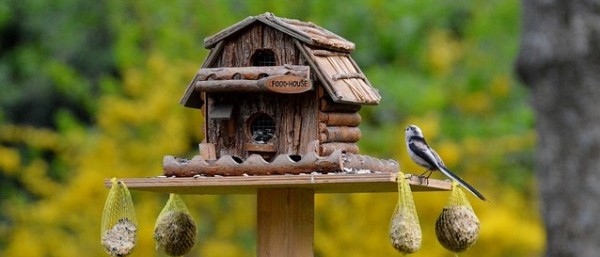 You have to know this…..
Different birds love different feeds. It is your responsibility to make sure you identify the best feeds for the birds in your backyard. One of the best bird feeds is black oil sunflower feeds.
Most birds love the high oil content in these seeds. They are also economical for you because a bag of the seeds will give you a high number of the seeds. If you have a large space, you can grow the sunflower plant that will give you these seeds. The plants do well in most areas. The birds will get attracted by the plant flowers. They will visit the plant to strip the seeds.
This is interesting…
You can also feed the birds with nuts. They are a healthy source of food for the birds because they have high calories. Popular nuts that you can give your birds include Acorns, Almonds, beechnuts, hickory nuts, peanuts and macadamia nuts. It is important to know the nuts that are loved by your backyard birds. The nuts are easily available and cheap for everyone who wants to start birding.
Birds in your backyard should be used to initiate your birding hobby. Making them comfortable will facilitate your interaction.
As you interact with them, you will learn their habits. What can be more enjoyable than being able to explain the behavior of each bird near you? It's easy to learn the habits of these birds when you attract them to you. As you engage in backyard bird watching think of recording the behaviors of these birds. Take their photos, record their singing, stick around them and learn. Check out each and every habit.
You will enjoy what you will see.